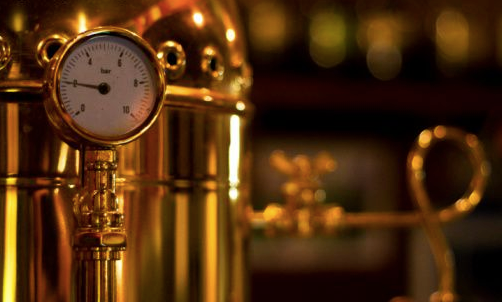 I just realized that, in the wake of an worldwide apocalyptic event, I am going to be that guy who, amidst the rubble and debris will have lovingly, painstakingly and obsessively restored some ultimately useless item.
Humankind will have been reduced to a few surviving feral tribes, scattered amongst a shattered landscape.  My life will have been destroyed, I will be wearing only rags and be smeared with filth and soot and I will be living in a hovel composed of four crumbling walls and a torn tarp for a ceiling.  I will live a hermit's life, one of solitary existence.
However, behind a carefully camouflaged door will be a compartment free of the dirt and madness.  A small altar will have been erected, and sunlight directed in from above using a series of mirrors and reflective surfaces.  Upon that altar will be a gleaming idol — an old world antique copper espresso engine.  Functional, but never used.  Restored to its pre-apocalyptic glory by any means possible, scavenging, bartering or stealing the parts and tools necessary.
I know with grim certainty that my next foray out into this nightmarish landscape may well be my last, but I am driven by an inexplicable, irrational desire to bring even this one piece of time-gone-by back to life.  I spend countless hours cleaning, shaping and polishing each piece by hand.  I improvise parts until I can one day find a real replacement.  I go hungry trading food for copper polish and burnishing pads.  I killed a man in honorable combat who was wearing the ornate copper eagle — the crowning decorative touch — on a band of aluminum around his head as an improvised crown and symbol of his tribe… I stabbed him in the lung with a spare frother tube that I carry for personal protection, and I watched as his life hissed slowly away.
My madness is what keeps me alive.  It gives me a purpose and keeps the fire that burns behind my eyes lit, and drives me on from day to day.  There can be no sanity in the world as it is, no rational existence exists any more.  There is only my gleaming god — my caffeine miracle worker, the copper altar upon which beans and water were once sacrificed, the once steaming idol, a bull for the modern age past.
I will resurrect this deity — oh yes — and He will smile upon me with beatific joy for my hard work and fealty, and grant me eternal grace at His right hand.  I toil and labor so that He may on day rise again.  He will smite my enemies with steamy vengeance and set right this world of chaos, and I will finally be able to be at peace.
That, and get a killer cup of joe… finally!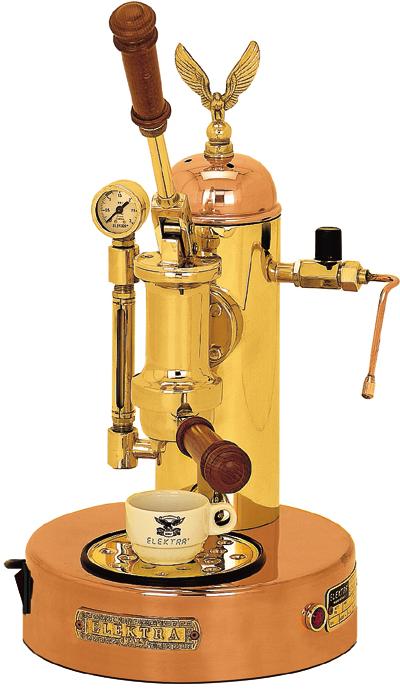 2 Comments
You are so weird. I miss you. Make me a cup.

Lisa
RSS feed for comments on this post.
Sorry, the comment form is closed at this time.